I am all about giving back to the community that has supported and helped me, so I am now offering mentoring. To do this I am using the service provided by ADPList.org.
Mentoring is open to anyone interested in Quality, Software Development, Engineering Leadership, or People Management. You can book a 1:1 session with me directly on ADPList profile. If you want to chat before booking a session to discuss your mentoring goals or establish if I am the right mentor for you, feel free to contact me via LinkedIn, Twitter, Email or via ADPlist.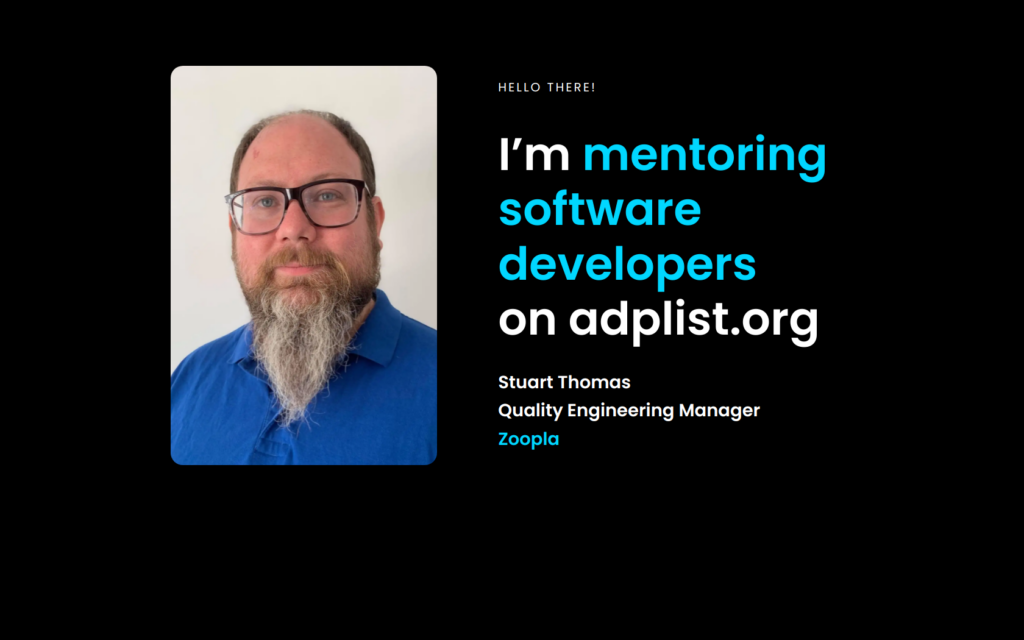 What is mentoring?
'Mentoring is a brain to pick, an ear to listen, a push in the right direction'

John Crosby
I see a lot of confusion between mentoring, coaching and training. Although they all form part of a bigger personal growth and learning journey, they are all quite different. The primary focus of mentoring relationships is to develop skills and to build self-reliance for the mentee and are ideally suited to soft skill development, more so than technical expertise. A mentor might:
Provide direction and advice and should 'open doors' for mentees.
Use the benefit of their experience to show their mentee how to approach something.
Provide a neutral 'sounding board', assure total confidentiality, and have no agenda other than assisting their mentees in their development and to reach their goals.
If this sounds like something you would like from me, then do get in touch and we can arrange to setup some time to do introductions and establish if a mentoring relationship between us is the right for you.